Is there a weed vaporizer that will work with both dry herbs and concentrates? This is a common question and for good reason. A device that does both well is a dream vape! The short answer to that question is yes. The long answer is yes, but not one that truly works for dab heads. In this video, we break down the long answer for you.
The Long Answer
The problem with the "a vape that does both" claim is if you want a device that performs well with both flower and concentrates, you will likely have to sacrifice portability. And if you don't want to sacrifice portability, you will likely sacrifice the quality of performance you're looking for.
Let's dial it back and remember that Troy and Jerry tend to do things on a larger scale than the average consumer. While there aren't true pocketable dual-use weed vapes that deliver the kind of vapor we are used to getting from our desktops, there are devices that can deliver on a smaller scale.
For starters, the DynaCoil. While a VapCap and DynaCoil is not something Troy would recommend to someone who, like himself, likes to load a heavy dose, it is a setup that can scratch a dual-use itch. Check out the 3:42 mark in the video to see the DynaCoil in action as Jerry takes a hit to the dome.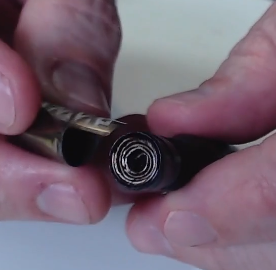 Some honorable mentions in the portable dual-use weed vapes category:
Mighty+: Jerry has been known to load the Mighty with a twax (a bowl loaded with both dry herb and concentrate) and enjoy the vapor. This is a great option if you only want to travel with one device.
Firefly2+

:

Jerry argues that this device performs better with concentrates. However, it does require some practice and tinkering to get it right. The Firefly2+ is known for delivering incredibly flavorful hits and can serve as a dual-use device.
TLDR: If your doses are smaller in size, yes some portable vaporizers will work with both flower and concentrate. If you are a heavy dab user then you will likely need a couple of devices to give you the best of both worlds.
What's the Alternative?
If sacrificing portability or performance isn't something you're willing to do then you need one device for dry herbs and one for concentrates. Here are some of our favorites:
Dry Herb
Concentrates
RiO by Stache Products: The Rig-in-One is one of our favorite dab devices. With a built-in torch, this rig is great for home and travel.
Want the Best?
If portability is not a requirement and you're willing to spend a little more for something that does both, we've got something for you. Desktop vaporizers. Devices like the Freight Train w/Fusion Engine by Old Head Trading Co. and the Flowerpot B2 from Cannabis Hardware (use code TROYTIME to save at CH) offer the best of both worlds.
Join the Community
If you have any more questions, or you wish to get more engaged with others who vaporize their herbs, you are welcome to join the 420vapezone Discord. We have a friendly community of weed vape enthusiasts who enjoy vaping together and engage in discussions of all kinds. Cheers, and happy vaping!
For more content on dry herb vapes and vaping weed, check out Troy's separate Twitch and YouTube channels for live discussions and vape sessions, and drop by the 420 VapeZone website for more cannabis vaporizer news and reviews.
Watch Us Live
Tune in to Think Dank every Friday starting at 9 pm EST/6 pm PST.