So you want to know how to start your career in cannabis? Listen to this. Before Jerry was Stickstones, also known as the vapor concierge, he spent his days appraising commercial real estate. So how did he make the transition from an unfulfilling day job to full-time content writer and curator for Planet of the Vapes? Let's hear from one of the godfather's of the dry herb vape community himself.
In this video, Jerry walks us through the 8-year journey from real estate appraiser to promising career in the cannabis industry.
A Foot in the Door
Jerry's start in the dry herb vape space began back in 2008. With a full-time job in appraisal, and a wife and kids at home, his relationship with cannabis existed between the hours of 10pm and 2am. It was during those hours that he found a forum called Fuck Combustion. At the time, this forum was barely developed and was only home to a few vape enthusiasts.
It was here that Jerry was able to form connections and put the skills he was using daily as a real estate appraiser to use in a fun way, by reviewing vaporizers. As the forum's community grew, so did the conversations between members. Jerry, having spent seven years on the forum already, 5 of those as a moderator, had become a point of contact for manufacturers looking for beta and review testers. His passion for dry herb vapes continued to grow and he knew he wanted to be in the business. The advice he got? Sell vapes, don't develop them.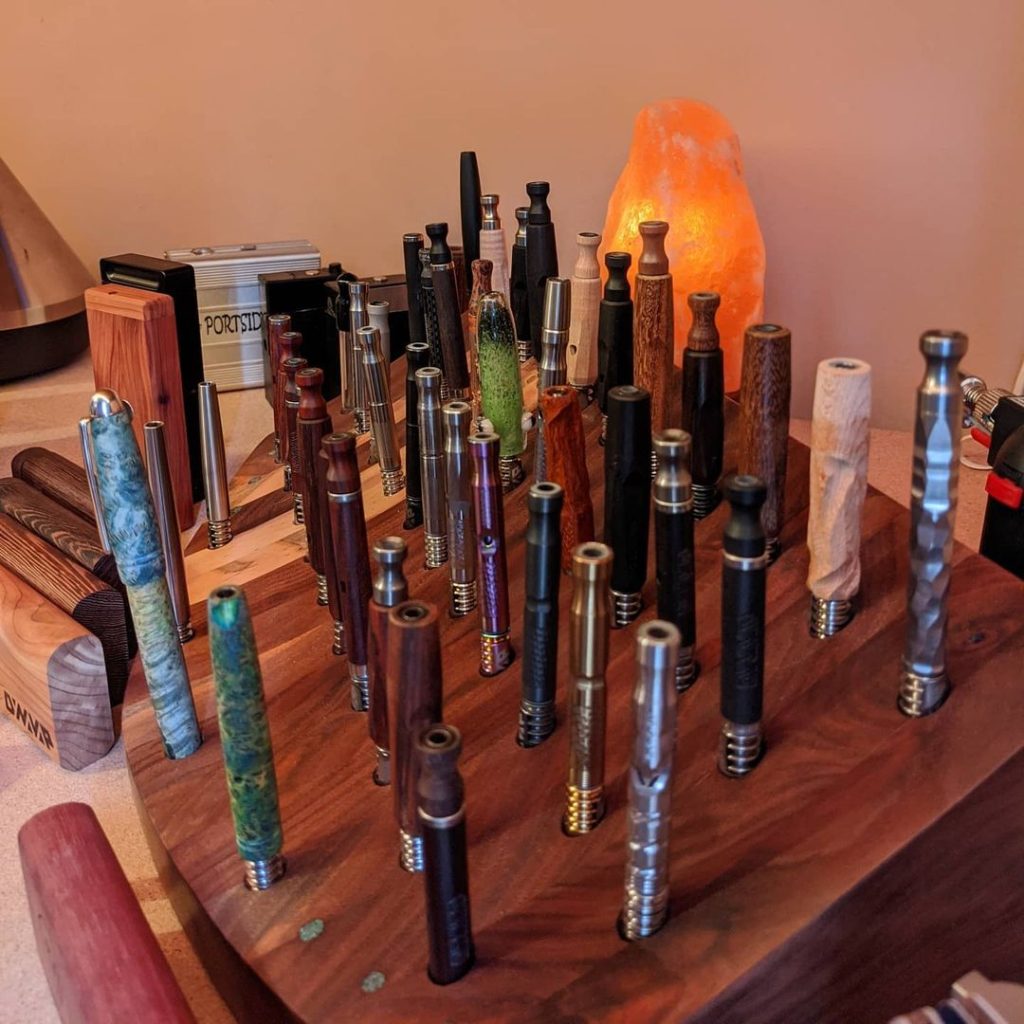 Equipped with an organic collection of dry herb vapes that he'd bought on his own and/or received as a beta-tester, Jerry sought out to do more within the FC forum. Thus, the Vapor Concierge was born. Jerry found a purpose for his passion for community and for helping others by pairing people with vaporizers that fit their needs and lifestyle. This proved to be both fulfilling and lucrative enough to pay for his next vape. His next step? Turning his hobby into a full blown career in cannabis.
The Big Opportunity
It wasn't until 2016 that things really changed for Jerry. In 2015, a man by the name of Patrick reached out to Jerry to help him with an endeavor. Patrick was creating an e-commerce site dedicated to educating people on the benefits of vaporizing and selling the best devices on the market. The site? Planet of the Vapes.
The time and effort that Jerry put into building a community on FC, beta-testing and reviewing vaporizers, proved to be something this new venture with Patrick was going to need. The job? Writing vape content with impartialness and integrity. It was then, that Jerry became the resident vape expert at Planet of the Vapes.
This was Jerry's dream gig. A job that combined his vape passion with his passion for helping people. So after 14 years of working in a job that he hated but that paid the bills, Jerry was able to quit and live a life full of passion with a career in the cannabis industry.
How Can You Do the Same?
While Jerry's opportunity may seem like a result of good timing and fate, there is room for everyone in the cannabis industry. Both Troy and Jerry's stories have one thing in common: passion.
If you have a passion that brings you joy, there is an opportunity for you to monetize it. The first step? Just doing it. Whether it's for you, for someone else, for free or not. Just start doing what you love, the rest will follow.
Join the Community
If you have any more questions, or you wish to get more engaged with others who vaporize their herbs, you are welcome to join the 420vapezone Discord. We have a friendly community of weed vape enthusiasts who enjoy vaping together and engage in discussions of all kinds. Cheers, and happy vaping!
For more content on dry herb vapes and vaping weed, check out Troy's separate Twitch and YouTube channels for live discussions and vape sessions, and drop by the 420 VapeZone website for more cannabis vaporizer news and reviews.
Think Dank Live
Tune in to Think Dank every Friday starting at 9 pm EST/6 pm PST.