***Youtube banned us until Saturday, May 28th. So catch our livestream this Friday on Twitch or here on Troy and Jerry. Spread the word!***
We got our hands on the new CFX+ dry herb vape from Boundless, and there's plenty of good and bad to cover, so let's dive in!
On its own, I dig it
The CFX+ is an impressive conduction vape, and those aren't normally my style. It's got a huge oven with plenty of power, and the mouthpiece cools the vapor exceptionally. The vapor is light, full, and tasty. I think this vape stands on its own well. It's when I compare it to the CF and CFX that it gets a little muddy.
A lighter upgrade?
Boundless is known for their heavy clouds at the expense of flavor, but the CFX+ doesn't fit this mold. Sessions are a little lighter and tastier than the CF or CFX, yet the big bowl still smacks. And if you want that roasty end-of-bowl taste, just extend the session with the adjustable timer and ride it out a little longer. When I accepted these changes I found it easy to like the CFX+.
Decent battery life
You should get between 60 and 90 minutes of vape time with the CFX+, depending on your temperature settings and session lengths. That's over 15 four-minute sessions, and places it better than smaller vapes, but less than a Mighty+. Given the size of the oven, you could go through a lot of weed on a single charge!
But watch out for Standby mode. That little fucker drains the battery. Get in the habit of turning it off manually or you'll come back days later to a dead battery.
Fits in a pocket
The original Boundless CFX was a little big to travel with, while the pocketable CF didn't have any features. The CFX+ bridges that gap with custom session settings and a size comparable to the CF. It's a little wider than the CF, but also a little shorter. The CFX has a similar footprint and shape, but is nearly an inch taller than the CFX+.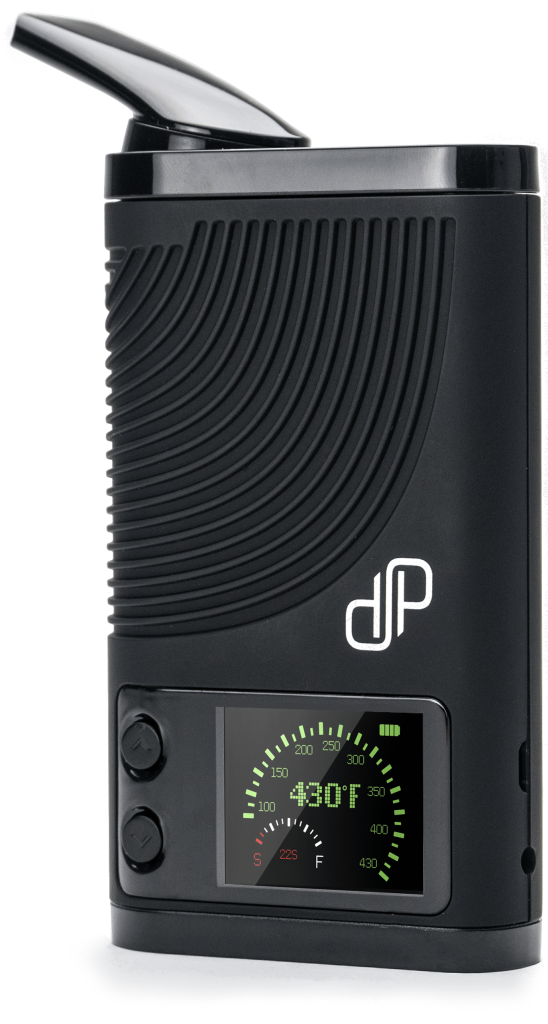 Completely different mouthpiece
The CFX+ is the first box-shaped Boundless vape without a swivel mouthpiece, and I like it. Instead, there is a slit in the top to place your lips on, like a PAX 2 or 3 vaporizer. The mouthpiece attaches magnetically instead of a twist-lock. And the loading dock below makes it easy to load.
There is a stir tool under the mouthpiece, but you may never use it. Take the mouthpiece apart and you'll discover why the vapor is so cool. The CFX+ has a long ceramic zirconia vapor path that cools the vapor as well or better than any other vape I've used. It has a silicone end-cap to take off for deep cleans.
Great new features
Once you find your way into the settings menu, there's plenty to think about. Here you'll find the F/C toggle, brightness adjustment, and a session timer that extends from two to eight minutes. For the most part, you'll adjust these once and never look back. I like that kind of stuff – get it the way I want and leave me alone!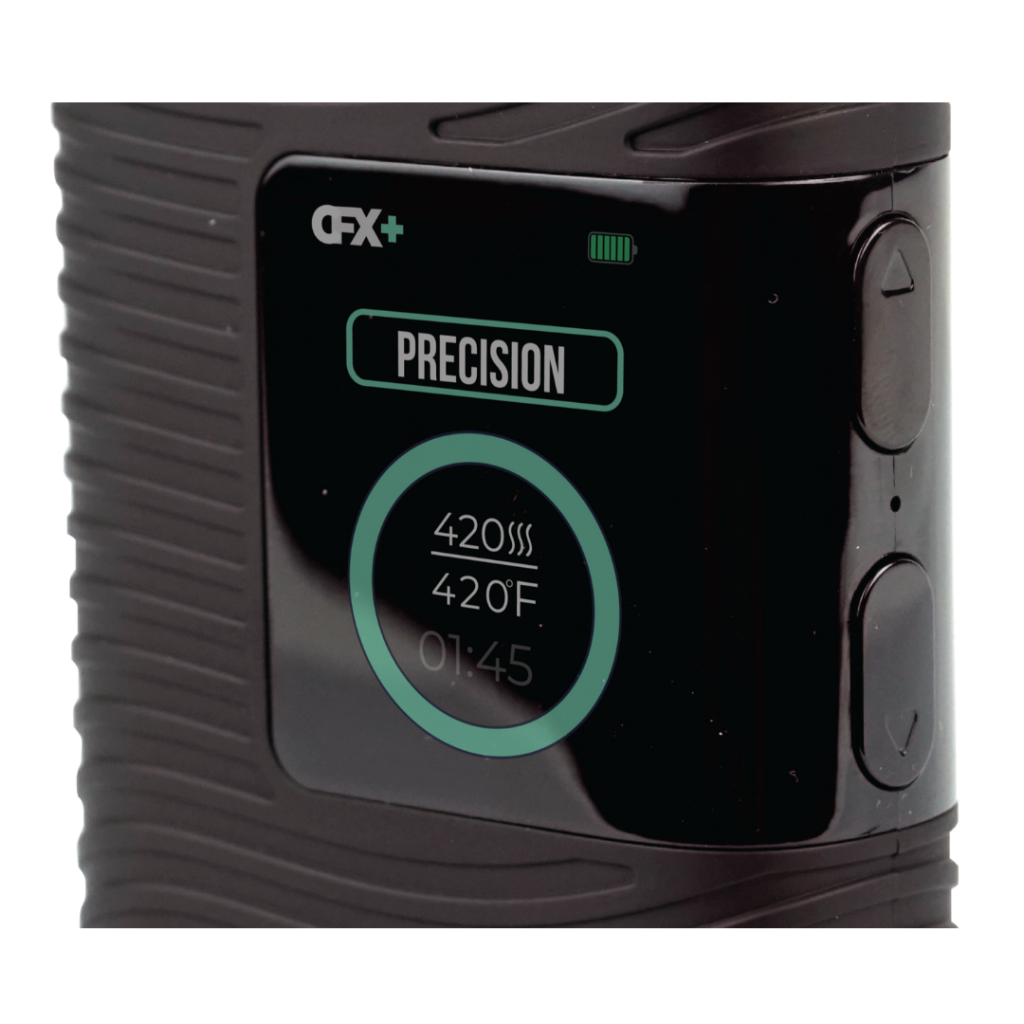 Preset temps – why?
One new feature I don't get is the Preset temps. Here you can select from one of four preset temperatures, or leave it alone and go with variable temperature control. The preset temps don't add anything except the ability to have the vape on while the buttons are unresponsive. I could use this if I wanted to share with people and I didn't want them to adjust the vape. But other than that, this is a strange inconvenience. Choose a Preset temp and lose your options until you revert back to Variable – I don't get it.
Two buttons – another why?
Simplicity is better, right? Not when it doesn't work. The CFX+ has two buttons instead of three, and you have to press them at exactly the same time to enter the settings menu. It can be picky, and it took me a while to find the vape's rhythm. Once I got it, things were fine, but it took a lot longer than I enjoyed. I expect them to fix this in future production runs, but for now, practice your button-press timing.
Is the CFX+ worth it?
Good question. The CFX+ dry herb vaporizer is currently $179.95, and there aren't tons of options at that price point. There are more vapes to choose from above $250 and below $150, but the middle gap between is a little light. Most vapes at this price are smaller or have metal instead of plastic shells.
Conclusion
I hammer on this vape's shortcomings because they're baffling for a company like Boundless, but I do like the CFX+. The vapor is tasty and the airflow is pretty open for a conduction vape. It doesn't ride the combustion line like earlier Boundless vapes, but I like it better that way. And if you miss that, it can still be found at the end of a longer session. At the end of the day, this could be my new beach vape when I don't need something as small as the PAX 3. It's a solid recommendation for high-tolerance smokers who want to switch to vapor.