Our Newest Sponsor: MiniNail
I can't tell you how stoked we are to have MiniNail sponsor the Troy and Jerry Think Dank! I've been obsessed ever since I got my Mininail. It's dope as fuck, hits like a champ, and built to last. And don't forget the LED Slabpad…I use it every dab. In this episode we go over MiniNail the company and the dab rig, and hammer home lots of dabs! Grab your dabs and get comfortable.
Let me introduce you to my little Mininail
The MiniNail is an electric rig for your at-home dab station, not to be confused with a portable e-rig like the Dr. Dabber Switch. Everything about this nail is dope. The control box itself is tiny. It can't possibly get any smaller. It's about half the size of a normal sized PID controller. They squeezed everything into a tighter box, but also improved the internal connections so it's safer. Everything is full sized – the display, switch and cords – but the box is considerably smaller. This thing is already a win.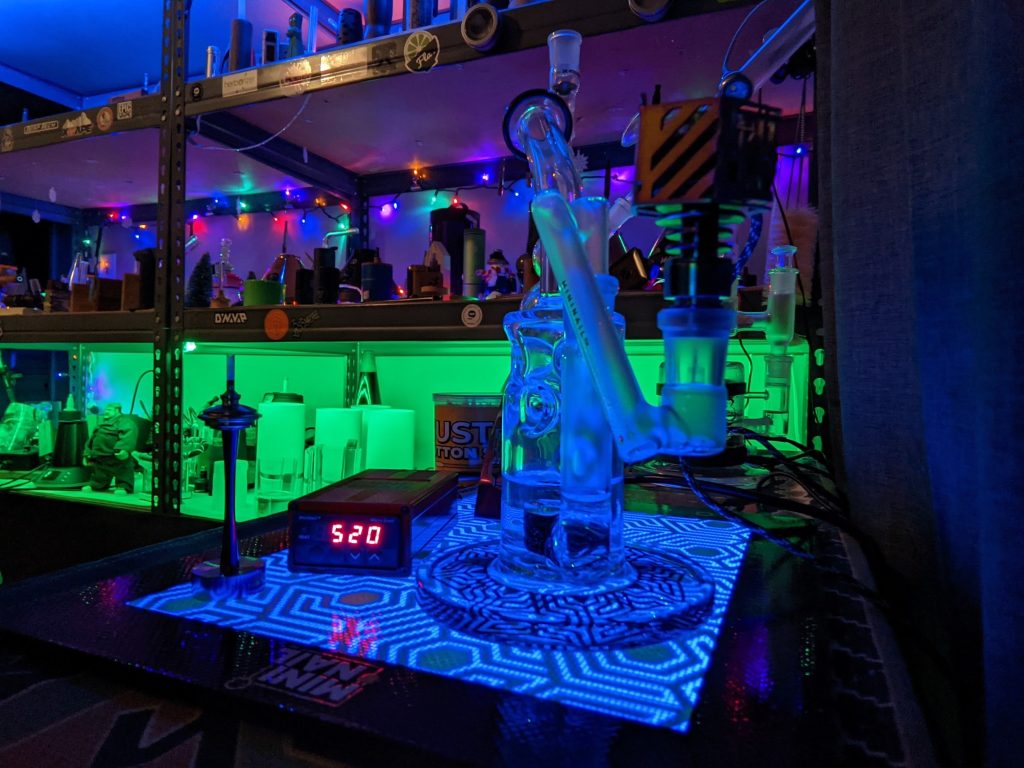 The bucket coil heats the dish from the bottom and sides, and this is the deep dish model! The inner walls are deeeeep on both sides, and the hits are divine – big, smooth and tasty. I got both quartz and sic dishes, but keep gravitating to the quartz. Troy loves his sic! I copied Troy and went with the rainbow anodized finish and the Space Dabber carb cap…they're fucking dope!
Thick, stable bubbler
Let's talk about this glass. It's German Schott and thick as shit. The base is wide and stable, with geometric prints. The only color is in the perc, and the can has large, finger-sized dimples. I love this piece. It's one of the nicest in my collection.
Slabmat is the shit!
Throw it all on top of the LED Slabmat, and the mood is set. The mat is mesmerizing, and with six colors and a color wheel setting, really ties the room together. The print matches the print on the base of the glass…come on!
The entire kit is amazing, and I couldn't wait to assemble it. That's when I found something truly special…the custom calibration card. Had these guys calibrated all my gear for an accurate temp setting!?! I had to find out…
These MiniNail guys are passionate
I chased down the owner for a conversation, and found a passionate dab junkie just like us! I love it when the people behind my favorite products use them as much as I do. It lets me know that thought and care went into my kit, and it shows in the MiniNail.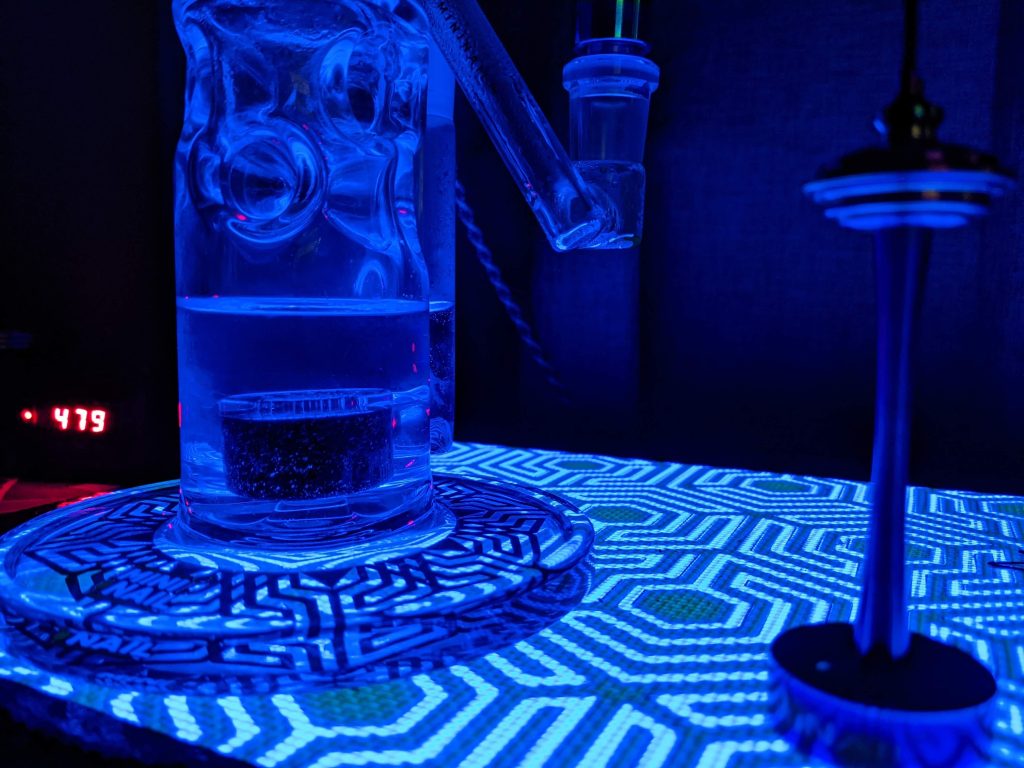 MiniNail kits, be they stock or custom, are assembled to order and calibrated with an industrial thermal imaging system. What the fuck? Have we found our dab twin? I do that myself to every rig I assemble for serious use, and it's a pain in the ass and unreliable. So this is a true gift. When I set my MiniNail to 396F, my dabs hit 396F, no questions about it. The company owners wouldn't have it any other way, and neither would I. Thank you!
So get to work on your custom kit…there are over a thousand combinations to craft. Or just get one of their stock kits. They'll blow your mind. And don't forget the Slabmat. You'll thank us later!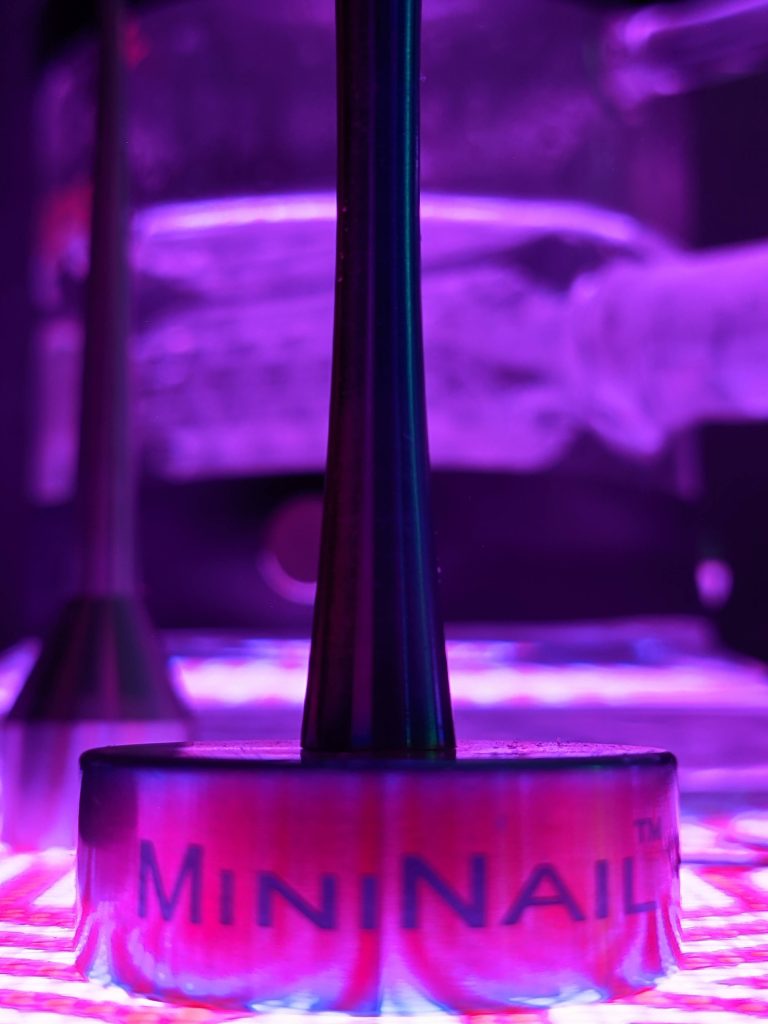 A great combo!
The Think Dank and MiniNail go together like cookies and cream. We already use their kits and show them off. The Slabmat is something I use everyday, whether I dab or hit flowers. It sets the mood. This sponsorship is typical Think Dank – right in the pocket. Get ready to see a lot of the MiniNail!