Happy holidays everyone! With the Stoner Gift Guide finally out and in your hands, it only seemed fitting to hook you guys up with some of the featured items. A huge shoutout to our sponsors for making this happen, we are incredibly thankful to be working with you all for our first 12 Days Of Christmas Giveaway! With over $3,500 worth of incredible products for any cannabis enthusiast, you definitely don't want to miss out on the chance to win!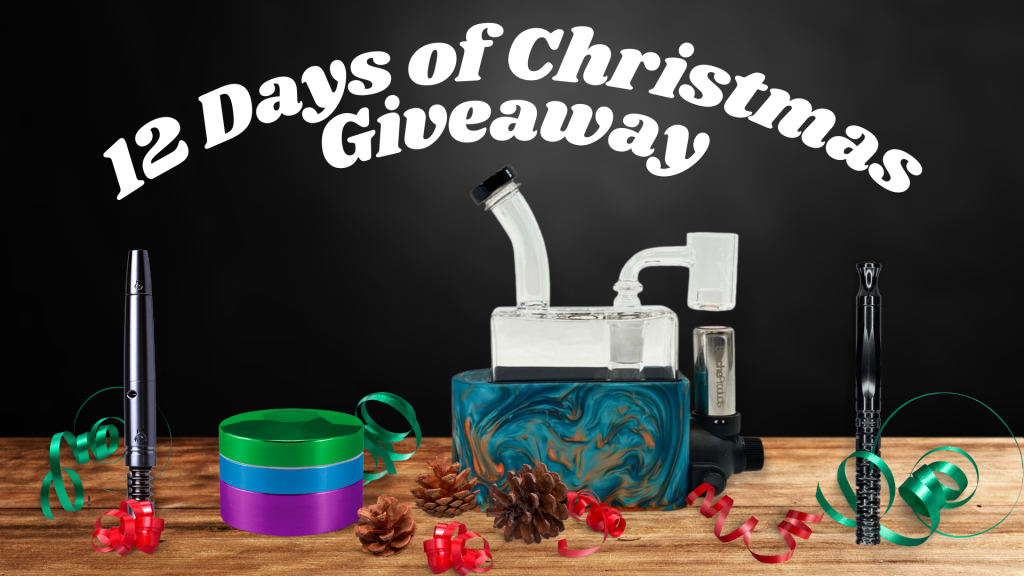 Check out the killer gifts we have to giveaway this year!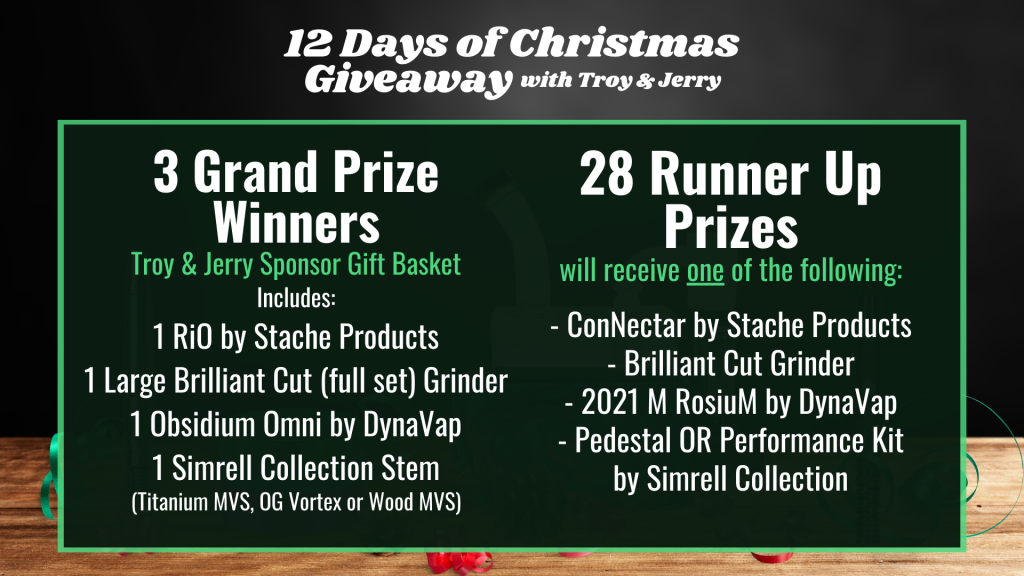 Three grand prize winners will receive a Troy & Jerry Sponsor Gift Basket. Each one is filled with over $750 worth of product from our sponsors! That is INSANE!
Included in each basket: Teal Makeover RiO by Stache Products, a Large Brilliant Cut Grinder (with a full set of plates!), an Obsidium Omni by DynaVap, and one Simrell Collection stem (either a titanium MVS, OG Vortex, or Wood MVS).
But the fun doesn't end there. We also have ConNectars by Stache Products, Medium Brilliant Cut Grinders, 2021 M RosiuMs by DynaVap, and Pedestals and Performance Kits by Simrell Collection to giveaway! There will be over 30 winners total for this giveaway, so make sure you enter!
You have 12 days to enter!
How? We're glad you asked.
Follow us & our sponsors on Instagram!
Subscribe to our newsletter
Tag a friend on the giveaway post on Instagram
Share the post to your Instagram story (make sure to tag us in the story so we don't miss your entry!)
Want to increase your chances of winning? Tag as many friends as you want on the post! Each comment/tag is an extra entry into the giveaway.
Head over to Instagram now to start entering!
Winners will be announced on our December 10th livestream!
Happy holidays and good luck to everyone entering the 12 Days of Christmas Giveaway!
Tune in to Think Dank every Friday starting at 9 pm EST/6 pm PST.